Mount Eden Estate Old Vine Reserve Cabernet 1992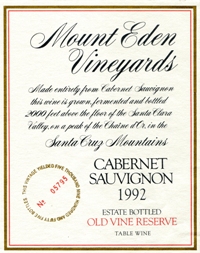 Tasting Notes
Release Date: Fall 1995
The approach to our Old Vine Cabernet Sauvignon is essentially the same as with our regular estate bottled Cabernet only the vines are twenty years older. Harvest commences when the berries take on that deeply fruited flavor that reflects full ripeness. Harvested by hand, crushed a mere stone's throw away at our cave, this wine was fermented slowly in shallow bins for two weeks then pressed into new "chateau" barrels from France. The vintage spends two years in the barrel, maturing and developing its unique personality along the way. The intensity of the vintage is dependent upon a moderate crop level and on beautiful, uninterrupted autumn weather. 1992 was such a year, producing great Cabernet in California.
This is truly a mountain wine with intense color, briar-currant and sweet oak in the nose, ripe black fruits on the palate, and a long resonant aftertaste as only the old vines can produce; it is brooding yet eminently satisfying.
Tech Notes
Sorry, technical notes are not available for this vintage.
91 points Robert Parker Jr's The Wine Advocate - February 1996
Issue # 103
The hugely extracted, extremely tannic and backward 1992 Cabernet Sauvignon Estate Old Vine Reserve requires a minimum of 10-12 years of cellaring. Although this impressive Cabernet possesses a dense purple color and great purity of cassis fruit, it is frightfully tannic and unapproachable. It may well be a 25-30 year wine where well-stored. It should be purchased only by those consumers who possess the requisite discipline.
91 points  Wine Spectator - '92 California Cabernet Retrospective - May 2003
A wine of exceptional depth, focus, richness and complexity, with multilayered currant, black cherry, anise, mineral and cedary-sage flavors. Vibrant acidity keeps the youthful flavors lively. Tannins are softening, thought the wine retained its rustic character and fine structure.
90 points Wine Spectator - June 1996
Dark, ripe, and intense, marked by plum, prune, cherry, currant and mineral notes. Finishes with firm tannins and a sense of finesse. Best after 1999.
The UndergroundWine Journal
The 1992 Cabernet Sauvignon Old Vine Reserve has a deep, complex aroma of exotic wild berries, cedar, cassis and spice. The flavors, mirroring the aromas, are rich, highly extracted, rich flavorful, with great balance and a long, balanced finish — a beauty.  18 ½ Outstanding
Rating Scale for The Underground Wine Journal:
18-20 Outstanding
15-17 Very good
12-14 Good
Under 12 Below Average
California Grapevine - December 1995/January 1996
17 (90 out of 100)
Medium-dark ruby with purplish tinges; attractive, assertive, herbal, cedary, green olive, cigar box, black cherry aroma which developed with airing in the glass; full extract, black currant flavors; full tannin; somewhat rough and harsh on the finish; lingering aftertaste. Above-average to superior quality. Needs a few more years of bottle aging to mellow out the firm tannins. Very highly recommended.