Edna Valley Chardonnay, MacGregor Vineyard 1993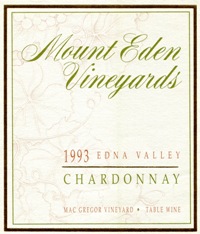 Tasting Notes
Release Date: Spring 1995
I'm always in awe of our grower Andy Mac Gregor in Edna Valley.  Here he sits in mid-October, a full month after the rest of the state has harvested its Chardonnay vineyards, with every grape still on the vine.  What does he achieve for his patient gamble—a marvelous crop of intensely flavored Chardonnay fruit.  What do we achieve—a consistently delicious wine.
The '93 offering displays the signature tropical fruit qualities this vineyard is known for, with a unique roundness in mouthfeel. It is totally barrel fermented and aged "sur lies" deep in our mountain cave for eleven months.
The '93 is more flamboyant than recent vintages. Its decadence is only surpassed by its depth.
Tech Notes
Sorry, technical notes are not available for this vintage.
91 points Robert Parker Jr's The Wine Advocate - February 1995
Issue # 97
The winery continues to excel as their 1993 Chardonnay from Edna Valley's MacGregor Vineyard is the best example they have yet produced from this source. This rich wine offers an ostentatious display of tropical fruits, honey, and vanilla, full body, superb purity, layers of Chardonnay fruit, enough acidity to provide brilliance and focus, and a blockbuster finish. This hedonistic Chardonnay should drink well for 2 years.
90 points Wine Spectator - March 1995
A decadent style that's earthy and funky, but the rich, complex pear, honey, toast and spice flavors build to a full, complex aftertaste.