Edna Valley Chardonnay, MacGregor Vineyard 1992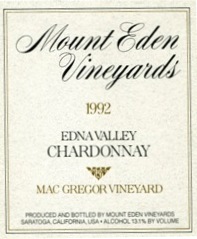 Tasting Notes
Release Date: Spring 1994
For someone like me who grew up in California and has seen the population skyrocket, Edna Valley is a splendid time capsule.  As you enter the valley from the coastal highway, I am continuously struck at how beautifully empty the land appears.  Approaching the verdant patches of vineyards amoung the dry, golden hills; brings back memories of aromatic citrus groves scattered strategically throughout the still agrarian southern California landscape
1992 marked the end of a severe drought in Edna Valley and a superb Chardonnay vintage ensued.  The wine was totally French barrel fermented and aged deep in our mountain cave.  Complex and creamy, the fully developed Chardonnay fruit is impressive at first sip and continues to develop in the glass.
Tech Notes
Sorry, technical notes are not available for this vintage.
89 points Wine Spectator - June 1994
Firm and focused, with delicate layers of honey, pear and hazelnut flavors that turn elegant and spicy on the finish. Well balanced and ready to drink now.
88 points Robert Parker Jr's The Wine Advocate - June 1994
Issue # 93
This big, forceful Chardonnay offers considerable tropical fruit, butter, honey, and toasty oak aromas. With admirable body, a lush texture, and a heady, ripe, alcoholic finish, it is meant for near-term consumption, so do not buy more than you can reasonably consume over the next 9-12 months.
The Underground Wine Journal 1994
The 1992 Chardonnay MacGregor Vineyard Edna Valley has aromas of tropical fruit, citrus, apple, pear and delicate spicy nuances. The pineapple, lemon/lime, spice, vanilla and pear flavors are forward, lush, bright and expansive, with good depth and complexity and a fruity, mineral-edged finish- delicious. Score 16 1/2