Mount Eden Estate Pinot Noir 1991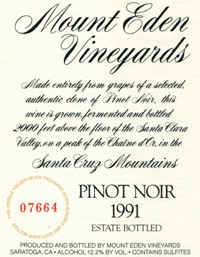 Tasting Notes
Release Date: Fall 1994
It is a labor our love to farm fifty-year-old vines in the Santa Cruz Mountains.  The vines hang on by their root hairs in the inhospitable shale soil.  Dealing with on-half ton per acre or less, year in and year out, is a true test of our commitment to this wine and the reverence we have for Pinot Noir.
This wine displays a unique earthen-berry nose, delicate yet penetrating. With intriguing strawberry, raspberry, dill flavors so transparent and individual, this is not Pinot from anywhere in the world but from this historic vineyard.
Tasting superb now, it is structured for two to five years of bottle improvement.
Tech Notes
Sorry, technical notes are not available for this vintage.
California Grapevine - August/September 1994
Medium ruby; attractive, forward, intense, earthy, herbal, cedary, ripe black cherry aroma with overtones of tar and violets; medium-full to full body; moderately concentrated, cedary, earthy, herbal, Pinot Noir flavors; medium-full tannin; slightly rough, dry finish; lingering aftertaste. Above average quality. Shows appealing varietal character and more extract than any other wine in this group. Deserves another year or two of bottle aging. Highly recommended.