Mount Eden Estate Chardonnay 1990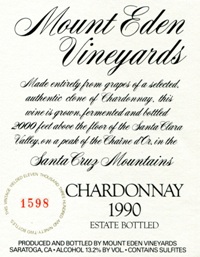 Tasting Notes
Release Date: Spring 1992
As the reports start filtering in, it seems  1990 is shaping up to be one outstanding vintage for California wine. I know it was for Mount Eden.
The vintage started off with a cool somewhat moist spring. Just around flowering time in May, the classic Santa Cruz Mountain blustery weather did its best to restrict the crop by producing a very limited berry set. As it was, the overall yield was a mere 3/4 ton per acre.
Classic fall weather prevailed throughout September as the Chardonnay vineyards ripened slowly and completely. The cool nights and moderate sunny days were a vintner's dream. Harvesting each vineyard at its peak of intensity is a privilege not often allowed in dealing with winegrowing.
The '90 Estate Chardonnay is very much a complete experience from the big blossomy aromas of lemon and anise to an extremely long lingering pear, citrine finish. Fermented and aged in selected new French burgundy barrels this vintage is a highlight to me in our long lineage of Estate Chardonnay.
Tech Notes
Sorry, technical notes are not available for this vintage.
95(+?) points Stephen Tanzer's International Wine Cellar - July/August 1998
Green-gold color. Fabulous leesy nose shows a charred hazelnut character along with citrus skin, fresh herb, mineral and mint notes. Huge, densely packed and very concentrated; very rich and sweet in the middle palate. Lively acids give the wine palate-staining grip. Explosive back-end fruit flavors go on and on. Still quite young, and likely to evolve for another 10 to 15 years. A great California chardonnay. 
95 points California Grapevine - August/September '92
Best Chardonnay of 1992-We would give 1990 Mount Eden Vineyards "Estate" a slight edge over 1990 Kistler "Kistler Estate" as the best Chardonnay of the year, though both are exceptionally outstanding
Medium-light golden yellow color; attractive, intense, deeply concentrated, toasty, lemony, ripe Chardonnay fruit aroma which developed with airing in the glass; full body; forward, intense, slightly viscous, toasty rich, well balanced; lingering aftertaste. Superior quality. This outstanding wine deserves another year or two of bottle aging. One of the best 1990 Chardonnays we've tasted to date. Very highly recommended.
90 points Robert Parker Jr's The Wine Advocate - October 1993
Issue # 89
Mount Eden is unquestionably one of the finest producers of Chardonnay in California. The 1991 and 1990 Estate Chardonnays share bouquets of toasty new oak, earthy, buttery fruit, and minerals. They are tightly knit, rich, full-bodied, concentrated wines that are dead ringers for a top premier cru or grand cru white burgundy. Although I did not have the opportunity to taste them side by side, my recollection is that the 1991 Chardonnay offers additional layers of flavor and longer finish than the exquisite 1990. Based on past efforts, these wines should last for 4-8 years.
90 (+?) points Stephen Tanzer's International Wine Cellar - July/August 1992
Tight floral, mineral nose offers Burgundian notes of herbs and toast with aeration. Lean and focused o the palate; quite concentrated. Vibrant, long finish, with a refreshing green quality. Showed its underlying richness and intensity of flavor as it opened up over a period of several hours, and was even better 24 hours later. Needs at least a couple years aging, and pay prove even better than our score suggests. Easily the best Estate release from Mount Eden since 1987.
Connoisseur's Guide to California Wine - 1992
Rating:

Obvious toasty oak and roasted grain qualities add complexity to aromas rich in tropical fruit scents. As deeply flavored as the nose suggests, the wine is well structured showing a crisp, hard-edge when cold while rounding out to a broader, more viscous tactile impression as it warms. This wine offers distinctive character and will serves well with such entrees as lobster served in rich sauces.
The Underground Wine Journal - 1992
Over the years we have tasted many Chardonnays from Mount Eden…Outstanding Chardonnay was produced in 1973,1975,1978,1979, 1981, 1984, 1985,1986, 1989, and 1990. While all of these wines were outstanding, this 1990 and the 1989 rank with the best wines ever produced by Mount Eden. The 1990 Estate, Santa Cruz Mountains, medium-yellow, has rich, intense, precise flavors and aromas of citrus, exotic tropical fruit, spice and vanilla. Moderate to full in weight, but not flabby, it has fine acidity and a very long, intense, powerful finish. A classic example of what low yields of fruit and good winemaking can create, this wine is another outstanding offering from one of the best and most consistent producers of Chardonnay in California. 18 Outstanding
Rating Scale for The Underground Wine Journal:
18-20 Outstanding
15-17 Very good
12-14 Good
Under 12 Below Average