Mount Eden Estate Old Vine Reserve Cabernet 1988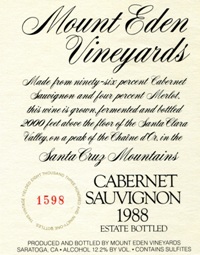 Tasting Notes
Release Date: Fall 1991
The grapes ripened slowly in our Cabernet vineyards in 1988. The maxim is that slow development yields maximum flavor complexity since the subtle perfumes and nuances of flavor take time to come into the berries. This only transpires during the final stages of ripening. In addition, the all-important tannins, which are such a dominant force in Cabernet Sauvignon, transform during this time from hard to soft. This process fgives the wine a pleasing texture and feel in the mouth.
The 1988 Cabernet is made exclusively from the old low-yielding vines planted during the 1950's. This very small crop produced a concentrated wine full of cassis, cherry, and anise flavors. Compelling for its inner vitality, this wine's prime drinkability will be between 1995 and 2005.
Tech Notes
Sorry, technical notes not available for this vintage.
86 points Wine Spectator - November 1992
An elegant Mount Eden that's distinctively herbal, but smooth, round and not too tannic. Currant, herb and cherry flavors persist on the finish. Drink now through 2000.
The Underground Wine Journal - November 1991
The 1988 Cabernet Sauvignon (Old Vine Reserve) Estate Bottled is a well-structured wine with great aging potential. It is dark in color and has a lovely perfume of dusty, cedary, blackberry fruit. There are similar flavor qualities on the palate, with the addition of a cedary spicy tone, followed by a tannic finish. 18 Outstanding
Rating Scale for The Underground Wine Journal:
18-20 Outstanding
15-17 Very good
12-14 Good
Under 12 Below Average