Mount Eden Estate Chardonnay 1988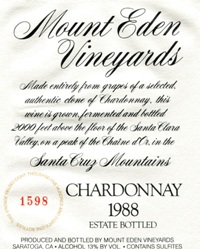 Tasting Notes
Release Date: Fall 1990
In 1988 the drought served to reduce the crop and magnify the flavors. This wine displays all of the incredible nuance of lemon, hazelnut, and gardenia that you have come to expect with the '88 signature of concentration.
Despite the scale of this wine, the all-important elements of structure and finesse are intact. This promises to be a long-lived vintage and should develop well into the mid -1990's.
Tech Notes
Sorry, technical notes are not available for this vintage.
92 points Robert Parker Jr.'s The Wine Advocate - August 1990
Mount Eden continues to produce Chardonnays that clearly rank among the top half dozen wines from this varietal in California. The 1988 is not nearly as opulent or as forward as the 1986 or 1987. Nevertheless, this is a splendid bottle of chardonnay that ideally needs several months in the cellar to round out. The moderately intense bouquet of hazelnuts, vanilla, and buttery fruit is less overwhelming that in several previous vintages. However, in the mouth, the wine reveals its fabulous concentration, medium to full body, good, crops acidity, impeccable balance as well as excellent length. While nearly every California Chardonnay has an alarming tendency to lose its fruit and fall flat on its face after 1-2 years of bottle age, this is one Chardonnay that seems to have the capacity to not only last, but develop and improve for at least 2-4 years. My gut feeling is that the 1988 should ultimately last longer than either the 1986 and 1987, both of which are now drinking beautifully without any signs of tiring
89 points Stephen Tanzer's International Wine Cellar - July/August 1998
Mature carnal, truffley aromas. Thick and sweet, with strong but well integrated acidity. A rather dense wine with powerful structure. Finishes quite long, with very good grip and a note of hazelnut. From a small crop that produced just 8,000 bottles.
88 points Wine Spectator - November 1990
Firm and slightly tannic, but the smoky pear and nutmeg aromas and flavors are beautifully focused and linger enticingly on the finish. A sturdy wine.