Mount Eden Estate Pinot Noir 1985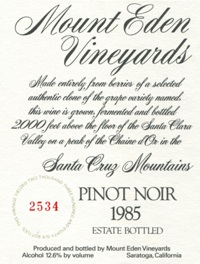 Tasting Notes
Release Date:  Fall 1988
For me, the 1985 vintage epitomizes everything possible from our vineyard, with its deep raspberry aromas, youthful tannins, and a beautiful, silky elegance. Quite forceful on the palate, the '85 promises great development in the bottle. This kind of year comes along only once in a great while. Unfortunately, the yield was unusually low: 300 bottles per acre. Therefore, it will be quite scarce.
Tech Notes
The grapes were picked at 23.5° brix, with a pH of 3.45, and 9.0 grams per liter titratable acidity. The finished wine has a pH of 3.6, titratable acidity of 6.4 grams per liter, and 12.8% alcohol.
92 points Wine Spectator - January 1990
Jim Laube Agreeing to Disagree on Pinot Noir
This wine defines elegance in Pinot Noir; it is very charming, with plenty of complex flavor and expensive oak that tastes smoky aromatic.
90 points Wine Spectator - June 1988
A beautifully elegant style with soft, silky cherry, spice and vanilla flavors, firm tannins, toasty oak and lean acidty. Has all the elements for greatness
The Underground Wine Journal - 1988
This medium-dark-colored wine has a perfumed nose of cherry-and berry-like fruit with a lovely exotic spice essence, and nuances of light, toasty vanilla. The spicy, slightly tart flavors of cherry and berry have hints of smokiness and vanilla, and are complex and layered, with good depth and balanced acidity and tannin. The finish is moderately long, clean and lingering. This is a lovely, spicy Pinot Noir with a bit more depth and complexity than the 1984. It will need three to five or more years to develop. Two great recent releases from Mount Eden – their outstanding '86 Chardonnay and this lovely '85 Pinot . 17 Very Good

Rating Scale for The Underground Wine Journal:
18-20 Outstanding
15-17 Very good
12-14 Good
Under 12 Below Average
California Grapevine - October/November 1988
Medium to medium-dark brickish ruby; attractive, intense, concentrated, smokey, cedary varietal aroma with notes of vanillin, spice and ripe fruit; medium-full body; rich and concentrated on the palate with forward, ripe, toasty fruit flavors and good balance and structure; moderate tannin; slightly rough and harsh on the finish; lingering aftertaste. Superior quality. This silky, elegant wine showed the most attractive, Burgundian-like aroma of this group and show potential to improve with several more years of bottle aging. Very highly recommended.