Mount Eden Estate Old Vine Reserve Cabernet 1984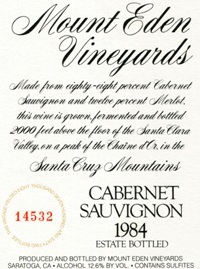 Tasting Notes
Release Date: Fall 1988
This excellent Cabernet Sauvignon vintage was stressed by drought and accelerated by warmth. An early harvest yielded a wine of a tight, tannic and reticient nature. After two years of aging in new bordelaise barrels, the '84 was still quite compact.  However, the past two years in bottle have served to sculpt the firm tannin-acid structure and reveal a beautiful spicy core of blackberry and cassis fruit.
Late-blossoming by recent standards, this vintage is definitely a keeper and promises great development over the next ten years. Stylistically, this wine reminds me of our '81 yet it seems to have an extra dimension of richness and concentration.
Tech Notes
The grapes were picked at 23.5° brix, with a pH of 3.45, and 7.0grams per liter titratable acidity. The finished wine has a pH of 3.4, titratable acidity of 6.0 grams per liter, and 12.8% alcohol.
90 points Wine Spectator - October 1988
Deep with black currant, cedar, cherry and herbal notes, along with toasty oak and rich, highly extracted fruit. It's well balanced with supple tannins. Drinkable in 1990 to '95
Connoisseurs' Guide to California Wine
Special Report 1984, 1985, 1986 Cabernet Sauvignon
Rating:

This impressive wine will require retasting with its peers before reaching final rating, but, at the moment, it seems the most impressive Cabernet to come from this mountaintop vineyard since 1974. The nose shows sweet, ripe, rich, curranty aromas with spice and vanillin scents adding further interest. A supple entry leads to loads of clean curranty fruit well balanced with oak. A very stylish wine with firm structure and a promise of elegance, it is cleaner and shows less prominent herbaceousness that has been the case with Mount Eden Cabernet in recent years. A real winner.
The Underground Wine Journal - 1988
This wine is medium dark in color, with a semi-perfumed nose of deep, cherry-like fruit, with hints of spice and vanilla, and a slight dustiness. The rich deep flavors of cherry and berry have a bitter-sweet impression, with undertones of spice and vanilla. Complex and very tight, this is a rich balanced wine with very good depth, moderately tannic, with a medium long, lingering finish, this is one to lay away for five to ten years. Will need a few years to develop to its full potential. A beauty—Mount Eden, which has been making some of the best, if not the best, Chardonnays, can well add Cabernet to their list of superb wines. This wine has more cherry fruit than some of the previous Cabs, which tended to have more herbal tones. A winner. 17 ½ Very Good

Rating Scale for The Underground Wine Journal:
18-20 Outstanding
15-17 Very good
12-14 Good
Under 12 Below Average