Mount Eden Estate Pinot Noir 1984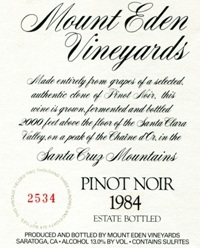 Tasting Notes
Release Date: Fall 1987
Our Pinot Noir comes exclusively from out seven acre estate vineyard planted in 1943. The old vines are pruned severely and are never irrigated. This extreme regimen, in combination with the thin mountain soil found at the peak of Mount Eden, reduces the crop size to miniscule levels. We believe all this is  necessary to produce Pinot Noir of longevity, complexity and breed.
The 1984 Pinot Noir is an intensely flavored, generous wine with an unusually firm structure and long aftertaste. It was produced in our traditional manner of lengthy slow fermentation, aging in new Burgundy barrels, and egg-white fining for clarity. Given the high level of concentration and superb balance of this wine, you can expect improvement in the bottle for 4 to 5 years and a drinking plateau for many years thereafter.
Tech Notes
The grapes were picked at 23.0° brix, with a pH of 3.4, and 8.6 grams per liter titratable acidity. The finished wine has a pH of 3.63, titratable acidity of 6.6 grams per liter, and 12.8% alcohol.
86 points Wine Spectator - April 1988
Has great Pinot Noir complexity and good structure. Fairly tannic, built on nice cherry, strawberry and cinnamon flavors. It feels velvety yet tastes austere and finishes slightly astringent. Could use one or two years' cellaring.
Connoisseurs' Guide to California Wine - May 1988
Rating:

Concentrated, black cherry fruit is joined by lots of toasty oak and rich, loamy earth tones in the deep, moderately intense aromas and the wine accurately mirrors each of these elements in its dense, young, decidedly forceful flavors. Fairly full in body and very firm in structure with medium tannins lending noticeable astringency to the lengthy finish, this many-layered rendition should shed its youthful hardness and blossom beautifully in five years' time.
California Grapevine - October/November 1987
Medium ruby; attractive, rich, smokey "Burgundian" aroma with good concentration and depth of fruit and hints of coffee and sausage; medium-full body (12% alcohol); rich moderately concentrated fruit flavors on the palate with moderate tannin and a slightly harsh, tart, bitter finish; lingering aftertaste. We would have liked a bit more richness on the palate to compliment the rich, outstanding varietal character in the aroma. Score 16
The Underground Wine Journal - December/January 1988
Dark in color, this wine has berry and cherry fruit aromas with some smokiness, vanilla and a very spicy essence. On the palate the taste is of tart, cherry/berry fruit with spice, vanilla and a smokiness and is somewhat light in the mouth. It has balanced acidity, moderate, balanced tannins and a long, lingering very slightly bitter, tart finish. One to lay away, it is a very intriguing, spicy wine that is somewhat tight and underdeveloped new and needs a few more years to come together. Mount Eden continues thier success in Chardonnay with this fine Pinot offering. 16 1/2 Very Good
Rating Scale for The Underground Wineletter:
18-20 Outstanding
15-17 Very good
12-14 Good
Under 12 Below Average