Mount Eden Estate Chardonnay 1984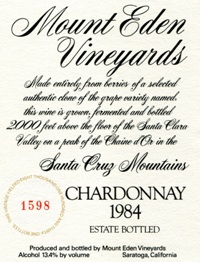 Tasting Notes
Release Date: Fall 1986
1984 was a year of strong contrasts in the weather. The winter began with a bang, bringing in one storm after another. Highly reminiscent of the prior two winters, we were getting quite accustomed to working in the driving rain. Then, at the end of December the winter abruptly ended. By February the growing season had commenced, and by spring we were in the midst of a drought year.
With the '84 vintage there is all of the power and grace you have come to expect from our estate grown Chardonnay but with an added intensity of character. Because of the extreme dryness, the normally small berries of our old vines were tiny. As the berry gets smaller the flavor and acidity of the wine increases due to the higher proportion of skin to juice.
Produced, as always, in  our traditional manner of new barrel fermentation and full malolactic, this wine  has the necessary balance and structure to age gracefully well into the next decade.
Tech Notes
The grapes were harvested September 3-12 with an average Brix of 23.8°, 10.1 grams per liter acidity, and 3.34 pH. The finished was has 7.0 grams per liter of acidity, a 3.42 ph and 13.4% alcohol.
94 points Stephen Tanzer's International Wine Cellar - July/August 1998
Light but slightly hazy color. Superripe aromas of lemon oil, spiced apple and sweet oak, with an exotic hint of chocolate. Silky and quite concentrated, with surprisingly fresh lemony acidity giving the fruit wonderful lift. A beautifully balanced, slowly developing wine with a deep core of spice. Very long and spicy on the back end, with enticing nutty and leesy nuances. An amazing showing, and a great California chardonnay. From a large crop of grapes harvested at the end of August. 
90 points Robert Parker Jr's The Wine Advocate - December 1985
This great chardonnay producer made a terrific 1983 and the 1984 looks potentially as good. At similar stages in their development, the 1984 is more closed, although the wine is quite concentrated and intense on the palate. The bouquet has the subtle scents of butterscotch, smokey toasty oak and seems to gush with fruit. Long, fish, with impeccable balance, this full bodies chardonnay should age gracefully for at least 4-5 years. Highly Recommended
Connoisseurs' Guide to California Wine - 1986
Rating:

Strong toasty oak and full, barrel-fermented qualities sit a top deep, but less forthcoming, scents of ripe, broad varietal fruit in the decidedly complex aromas. A firm, young, well-balanced wine on the palate, its sizable and handsome flavors are anything but sparing with rich oak and toasty traits nicely supported by a sold complement of bright and concentrated varietal fruit. Still a tough rough and showing noticeable heat, this rich, deep wine needs another year or two in which to come fully together. A stellar effort.
The Underground Wineletter - August/September 1986
Boy is this winery on a roll with Chardonnay! For each of the last four years an outstanding Chardonnay has been made each year. We know of no other California Chardonnay this is as consistently outstanding as Mount Eden. And, for our money, it is consistently the best Chardonnay produced in California. This 1984 is yet another stunning success. Light yellow gold in color with a perfumed, buttery, spicy nose hinting of citrus, it has lots of fruit and flavor hinting of citrus with nice spiciness and a faintly butter quality. Superbly balanced, the wine has very good acidity with a lingering finish—a delicious Chardonnay and a match for many Grand Cru white Burgundies. 18 Outstanding
Rating Scale for The Underground Wineletter:
18-20 Outstanding
15-17 Very good
12-14 Good
Under 12 Below Average