Mount Eden Estate Chardonnay 1983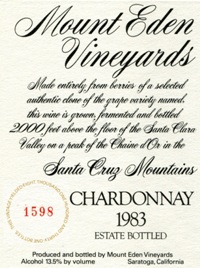 Tasting Notes
Release Date: Fall 1985
People often ask me what makes our Estate Chardonnay so good. I tell this it is really quite simple. You just take a fine, low yielding clone of the grape variety, plant it in the thin austere soil at the top of Mount Eden, and wait thirty-five years.
The '83 vintage was produced in our traditional manner: Gentle crushing and pressing, fermentation and aging in new Burgundian barrels, and a light polish filtration prior to bottling. The wine, is a brilliant green-gold, displays flavors of citrus and anise in its tight concentration. Given the history of Chardonnays from this vineyard, you may expect improvement int he bottle for four to five years and a drinking plateau for many years thereafter.
Tech Notes
The grapes were picked at 24.0° brix, with a pH of 3.4, and 10 grams per liter titratable acidity. The finished wine has a pH of 3.47, titratable acidity of 7.5 grams per liter, and 13.5% alcohol.
91 points Robert Parker Jr's The Wine Advocate - December 1985
Unfortunately this wine is hard to find at the retail level because of the winery's tiny production. The quality of the Chardonnays here can be dazzling. A superb 1973 tasted last month poignantly proved that not all California Chardonnays become comatose at age 4 or 5. The 1983 Chardonnay combines richness and power with grace and balance. It has a splendid bouquet of toasted almonds, butter, and tropical fruit. In the mouth, the wine is long and rich, medium to full bodied, fresh, crisp and so, so deep. It is a gorgeous Chardonnay that should drink well for 3-4 years at least… highly recommended.
California Grapevine - October/November 1985
Medium-light, golden-yellow color; very attractive, rich toasty, lemony, buttery aroma that continued to develop with airing; very well balanced; medium-full body; rich expansive, oaky, firmly structured fruit flavors on the palate; long finish; lingering aftertaste. Superior quality. Please no remarks about 'California Palates'-the most skilled taster would be extremely hard pressed to identify this wine in a blind tasting with the best French white Burgundies. Try this experiment yourself . It is a great Chardonnay and as good, if not better, than their outstanding 1982 bottling. Maybe the best Chardonnay we've tasted this year. Shows potential to improve with several more years of bottle aging.
The Underground Wineletter - August 1985
…As always, production is limited with only about 450 cases produced.  But consistently this property produces one of the finest of all California Chardonnays. In fact, this is the fourth vintage in a row that we've rated the Mount Eden Vineyards Chardonnay outstanding…if you haven't gotten any of the previous wines, don't miss this one! Light golden yellow in color with a spicy, vanilla and citrus perfumed nose, it is a rich, full wine with spicy, buttery flavor nuances and excellent acidity. Packed with fruit and flavor it has a faint hint of citrus in the lingering finish. Already delicious to drink but like previous vintages we'd expect this to keep for 3-5 years.   18 Outstanding
Rating Scale for The Underground Wineletter:
18-20 Outstanding
15-17 Very good
12-14 Good
Under 12 Below Average