Mount Eden Estate Chardonnay 1982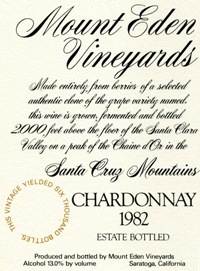 Tasting Notes
Sorry, information on this vintage is not available
Tech Notes
Sorry, technical notes on this vintage are not available
88 points Stephen Tanzer's International Wine Cellar - July/August 1998
Full yellow-gold color. Gamey, truffley nose hints at botrytis. Silky, thick and slightly minty in the mouth, with lowish acidity. A distinctly exotic style of chardonnay, with coconut and gamey nuances. Plenty of texture and appeal. From a wet year featuring some rot; the wine stopped fermenting with about three grams per liter of residual sugar.
Connoisseurs' Guide to California Wine - 1984
Rating:

Amidst intense and complex perfumes of toasty oak and butter, there sits an attractive element of bright varietal fruit. A big, rich, almost oily wine in the mouth with a minor edge of hotness, it delivers deep and tenacious lemony fruit along with a broad sweep of savory toastiness. If upstaged a bit by oak, the wine's fruit has the energy and depth to keep the wine varietally on target for the next two to three years.
The Underground Wineletter - August/September 1984
Year in and year out Mount Eden makes one of California's finest Chardonnays. This is yet another winner.  And, although production is small, the wine is worth searching for. The color is light yellow gold and the nose exhibits a delicate perfume that is very faintly floral with hints of lemon and spice and a touch of vanilla. Elegant yet rich on the palate, the wine has excellent fruit with some spice and a faint hint of lemon. Good acidity is evident on the nice, lingering finish. This outstanding Chardonnay should develop well for several years, although it is already delicious to drink.  18 Outstanding
Rating Scale for The Underground Wineletter:
18-20 Outstanding
15-17 Very good
12-14 Good
Under 12 Below Average
California Grapevine - 1984
Medium-light yellow; attractive, forward, stylish, very toasty, oaky, buttery Chardonnay aromas with light spicy overtones; well balanced; medium-full body (13% alcohol); rich, slightly viscous, lush, lemony, oaky flavors, with good concentration and depth of varietal fruit character; lingering aftertaste. Above-average quality. A very well made big oaky style of Chardonnay that has outstanding fruit to stand up to the oakiness.  Score 17