Mount Eden Estate Pinot Noir 1977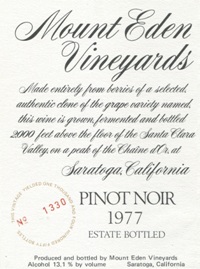 Tasting Notes
Sorry, information on this vintage is not available.
Tech Notes
Sorry, technical notes on this vintage are not available.
The Underground Wineletter - October/November 1980
Pre-Release notes:
100 cases of Pinot Noir were produced in 1977, but it is gorgeous, concentrated nectar. The color is dark and the nose shows a fruity spicy, plum-like quality with lots of fruit and complexity. It will be released this fall at $18 per bottle.