Mount Eden Estate Old Vine Reserve Cabernet 1973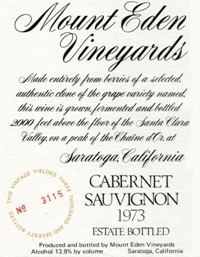 Tasting Notes
Release Dates: First Bottling—Summer, 1976; Second Bottling—Winter, 1976 Release notes are from the Second Bottling:
After the overwhelming response to our First Bottling, we are pleased to announce the release of the Second Bottling of our 1973 Cabernet Sauvignon.
The ripe 25° Brix grapes were stemmed and crushed directly in to 1000 gallon stainless steel fermenters. Fermentation was complete within ten days. After pressing, the new wine was pumped directly into Nevers Oak barrels, or barriques, imported from Bordeaux. The Cabernet was racked in mid-December and twice a year thereafter. Increased complexity and softness were contributed by a slow, gentle malolactic fermentation which finished early in the summer of 1974.
A fresh egg white fining the following spring mellowed the wine sufficiently for the first bottling in August 1975. The balance of the Cabernet was allowed to age in barrel for an additional six months, and the second bottling took place in January 1976.
A total of two and one-half years of maturation in Nevers Oak has produced a wine of subtle complexity which should expand for many years to come. This mouth filling Cabernet is a rich blend of fruit and oak with peppery undertones. The future elegance of this wine is assured by generous amounts of acid and tannin.
Tech Notes
Sorry, technical notes are not available for this vintage.
Connoisseurs' Guide to California Wine - November 1998
Dark, deep and amazingly young, near ruby color. We remember thinking that this bottling was about as good as it gets in California Cabernet, and even though the price was double that of most others, we bought a case of it. And are we glad that we did. Here is a wine that has come through a quarter of a century as if it were a decade. The ripe currant and black cherry fruit is stunning in its depth, richness and vitality, and the still evident tannins do nothing to interfere with the wine but do enhance the notion that another decade and more may lie ahead for this absolutely stunning bottling. And need we mention the complexing notes of black tea, dried spice, orange peel loam, roots, vanilla and even chocolate that are waiting in reserve while the fruit maintains itself front and center. It is aged perfection; this one is still growing into that state. Three stars when first reviewed.
Connoisseurs' Guide to California Wine - Late 1976
Rating: 

Only 4700 bottles of this exquisite Cabernet were produced but the small size of the winery forced two bottling's four months apart. Both bottling's were comparatively tasted after approximately the same length of time in the bottle.
The August 1975 bottling nose opened up with rich ripe berries and lots of vanillan from the oak.
The January 1976 bottling was less open and had more pronounced wood extract.
Both are big, mouth filling wines of rich depth and intensity. The wines are long in tannin but not astringent. Both have ample fruit to carry them as the tannins soften during aging. The first bottling seems to have better balance between the wood and fruit. It also possesses a creaminess that was muted by the additional wood tannins in the second. Feel fortunate to have bottles of either in your cellar. Keep for eight or more years and then decant carefully. The finest of the vintage yet released