Mount Eden Estate Pinot Noir 2009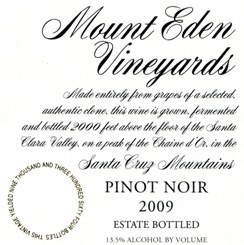 Tasting Notes
Release Date: Fall 2011
As I reflect on thirty years of making Pinot Noir at Mount Eden, there is one wine that stands out as old and profound: the 1956 Martin Ray that I tasted in 1998.
Yes, this is a bit of trivia to most, yet it was a revelation to me. The energy, youth and mere deliciousness of that wine told me that Pinot Noir from these vineyards has the stamina to go forty years and be sublime. This is the hallmark of great wine worldwide.
2009 was again a drought year, the third in a row which gave the vines added stress. Harvest conditions were intense - late summer heat combined with the dry soils of the meager rain during winter. Small berries were the norm with consequent concentration in the fermentation tanks. All the fermentations were natural without any added yeasts and the new wines were aged in Burgundy barrels the entire time without movement.
Buoyant aromatics of red berries, rose petals and earth combine with the signature nuances of dill and anise. Lively on the palate with classic Pinot flavors of raspberry, blueberry and herb, there is notable acidity with overall elegance of character give promise for evolution.
Tech Notes
Yield: 1.5 tons per acre Harvest: August 31st-September 1st Numbers @ Harvest: 23.5 Brix, 3.35 pH, 8.0 grams acidity Barrel Regimen: French Burgundy 50% new; 50% 1 year Bottling: September 2010 Alcohol: 13.5%
93+ points Robert Parker Jr's The Wine Advocate - August 2011
Issue #196
The Mount Eden 2009 Pinot Noir Estate opens with striking aromatics that lead to an expressive core of sweet red berries, crushed flowers, tobacco and spices. It is an impeccably balanced, refined wine loaded with class. In short, this is an American classic. The wine should be even better in another few years once the aromas flesh out. The Estate was not racked until it was prepared for bottling, which was done with no fining or filtration. Anticipated maturity: 2012-2019.
93 points Steve Tanzer's International Wine Cellar - June 2011
Bright red. High-pitched aromas of redcurrant, cherry and Asian spices, with a sexy floral quality and slow-building smokiness. Fresh and incisive on the palate, offering tangy red fruit and mineral flavors that gain richness with air. A bitter cherry note comes up on the very long, focused, pure finish. Impessively balanced pinot.
93 points Allen Meadows Burghound - October 2011
Outstanding Here the floral nuances are more prominent than in the '08 version with the same ripe, pure and strikingly perfumed red berry fruit nose that offers excellent complexity. There is more weight and density to the powerful, intense and mouth coating medium-bodied flavors that possess immaculate balance and wonderful length. This seamless effort will require a few years of cellar time before shedding its firm tannins and this should easily last for several decades.
91 points Wine & Spirits Magazine - October 2011
This historic pinot noir vineyard was established in 1945 by Martin Ray, using plant material Paul Masson had imported from Burgundy for his vineyard nearby.  The original vineyard was replanted during the 1990's—20 percent of the vines propagated from the original bud wood, with the rest planted to Swan, Calera, 37 (A virus-free clone form the original Mount Eden selection), and some Dijon clones. That original bud wood is now the parent of California heritage clone of pinot noir, sought out for the kind of elegant and supple beauty this 2009 provides.  It builds on forest berry sweetness with a savory counterbalance, feeling cool and vital. A gracefull young wine to cellar.
91 points Decanter - June 2015
As usual, this wine is restrained and lean in its youth, yet vibrant and promising for the long term. Delicate floral aromas and pretty cherry fruit flavours, with a subtle herbal undercurrent. Transparent and focused. (Online)