Mount Eden Estate Old Vine Reserve Cabernet 1999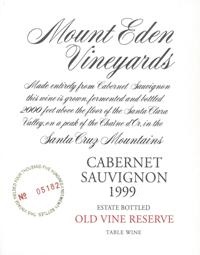 Tasting Notes
Release Date: Fall 2002
Farming these old guys requires a good sense of humor. Regardless of the year they give what they choose and they always choose just a little. Yet, that little bit is awfully good, especially in a Cabernet year like 1999.
Produced from vines planted by the late Martin Ray in the 1950's, this mountaintop site has no soil, no water, and no trellis system. These plants have been through it all. Respect is all we have for these old warriors.
The vintage got off to a slow start given an extremely cold and late winter (it snowed twice in April). After the weather returned to normal, we enjoyed a great growing season, albeit a late one. Harvest commenced in November under cool, dry conditions with the late-ripening Cabernet at full expression.
This is entirely Cabernet Sauvignon in contrast to our more "modern" estate version which is blended with Merlot and Cabernet Franc. Martin Ray would have it no other way. The primary issue with unblended Cabernet Sauvignon is a matter of balanced structure and harmony. The grape is unusually small and thick-skinned, giving wines a lot of density and tannins, especially high in the mountains. While these attributes give longevity and muscle, what is often missing is nuance and suppleness. With our Old Vine Reserve, however, the vines' age yield wines of soft tannins, terroir and drinkablity, not to mention graceful aging potential. Soft, supple, and harmonious textures give uniqueness and contemplation.
This is the penultimate "Old Vine" from a beautiful vintage. Rare, historic and profound.
Tech Notes
Sorry, technical notes are not available for this vintage
92 points Wine Enthusiast Magazine - August 2003
Still a baby, and easy to misunderstand, but this is serious.  Youthful tannins and acids frame juvenile, primary fruit flavors of blackberries, and oak has been tastefully applied. But the rich core of fruit , and overall balance, urge long-term aging got a good 10 years.
92 points Wine Spectator - May 2003
A dense, rich and distinctive wine, with baseline currant, earth, anise, herb and wild flower aromas. Sleek, complex and concentrated, you can chew on the rich layers of sweet ripe fruit, yet the tannins, even while firm, show signs of softness and elegance.
89 (+?) points Stephen Tanzer's International Wine Cellar - January/February 2004
Full red-ruby. Sweet aromas of black raspberry, leather, cola and sassafras, with an herbaceous topnote. Dense and strong in extract, with the red fruit and earth flavors nicely framed by integrated acidity. This has excellent weight and a claret-like texture. Showed increasing sweetness and lushness with time in the open bottle. This reminded me of some Mount Eden cabernets from the old days. I'd give this at least six or eight years of additional bottle aging.
88 points Robert Parker Jr's The Wine Advocate - December 2003
Issue # 150
The opaque ruby/purple-colored 1999 Cabernet Sauvignon Old Reserve reveals leathery, animal-like notes intermingled with classic aromas of creme de cassis, smoke, and underbrush. Ripe, medium-bodied, and moderately tannic, it is more accessible than the 2000 Estate, but also more rustic as well as artisinal. Anticipated maturity: 2005-2015.