Mount Eden Estate Chardonnay 1997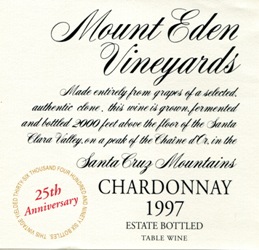 Tasting Notes
Release Date:  Spring 1999
The Chardonnay wines from this mountaintop are a bit unusual.  A wine writer did a 15 year vertical of Mount Eden Chardonnay a couple of years ago and after tasting one glass per bottle I was left with fifteen barely used bottles of Chardonnay on my table.  Not really knowing what to expect I simply recorked the bottles and left them on the table.  Over the next three days I returned to sample the various vintages going back to my debut the 1981.  The striking impression over that time was how fresh and vigorous all of the wines tasted, (yes, all of the wines) even on the third day.
The growing season in 1997 was close to greenhouse perfection.  Early spring, somewhat free of rain, moderate summer conditions starting in March, slow even ripening cool consistent autumn, harvesting under perfect conditions allowing style to dictate.  It spoils one.
We fermented the '97 in new French burgundy barrels and puncheons as is our tradition but this year the total ten months were great sur lies.  Stylistically, the vintage is rich yet nervous, poised for a long life ahead.  Classic lemon, pear, hazelnut flavors fill the palate with nuance of yeasty bread dough.  A long energetic finish completes the picture.  Give it a couple of years and enjoy for the following decade.
Tech Notes
Sorry, technical notes are not available for this vintage.
91-92+ points Robert Parker Jr's The Wine Advocate - December 1998
Issue # 120
The 1997 Chardonnay 25th Anniversary, which is given full malolactic fermentation and aged in all French oak, of which 50% is new, is bottled without fining or filtration. While I do not believe this wine possesses the intensity, richness, or longevity of the 1996, it is nevertheless an outstanding wine. It possesses a complex, honeysuckle, and citrusy-scented nose with subtle oak and a pronounced mineral component. Full-bodied, with superb fruit purity, fine underlying acidity, and a long finish, it should last for a decade.
90 points Stephen Tanzer's International Wine Cellar - May/June 1999
Big, ripe aromas of coconut, lemon and caramel. Fairly rich in the mouth, but tightly wrapped today; like the above, a bit less dense and concentrated than some recent vintages. But this filled in nicely with aeration. Finishes with a slight sensation of heat and palate-coating fruit. If past vintages are any indication, impatient Mount Eden fans should hold off on this wine until at least next fall.

88 points Wine Spectator - December 1999
Crisp, a touch earthy and flinty, with a leafy edge to the ripe pear and apple flavors, it works its way into more complex nuances. Drink now through 2005.