Edna Valley Chardonnay, MacGregor Vineyard 1997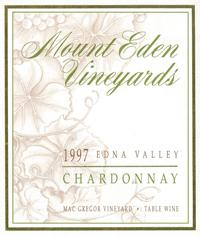 Tasting Notes
Release Date: Spring 1999
1997 brought an early spring to Edna Valley and the warm weather during flowering set a bountiful crop of Chardonnay grapes.  So much so, that our grower Andy MacGregor decided to thin his precious crop.  This is a process whereby workers cut off a portion of the grape clusters early in the growing season to bring the remaining fruit into proper balance.  Few growers I know will do this to maintain the highest standards of grape maturity, but he does.  It is this commitment that has led to the overwhelming success of this wine for the past thirteen vintages.
Size-wise the 1997 is enormous.  The texture, weight, and levels of extraction bring one's palate to immediate attention.  Creamy, unctuous, pineapple-guava flavors coat the mouth and hang on with incredible persistence.  Drink over the next 2-3 years.
Tech Notes
Sorry, technical notes not available for this vintage.
91 points Wine Spectator - June 1999
#43 Top 100 Wines of 1999 – December 1999
Openly fruity, touching on exotic, with ripe and lively tropical fruit, Meyer lemon, butterscotch and toasted oak. Turns firm on the finish. Drink now.
88 points Stephen Tanzer's International Wine Cellar - May/June 1999
Smoky aromas of spiced apple, tropical fruits and resiny oak; very California. A lemony edge gives the fairly rich flavors good grip. Not overly sweet in the middle but balanced to give early pleasure.

The Wall Street Journal - May 7, 1999
Dow Jones Under $20 Chardonnay Index
Best of tasting. This is it, what fine California Chardonnay is all about. It uses its ripe fruit to create character and kick instead of a big fat, buttery taste. A genuinely exciting wine. With age, it could be magnificent.
We were blown away by this wine. It had everything: dense fruit tastes, earth, style and a real kick as it opened up and exploded with taste in our mouths. We recently wrote about the wonders of of aging wines. This is one that, in time, has potential to be truly great.