Edna Valley Chardonnay, MacGregor Vineyard 1996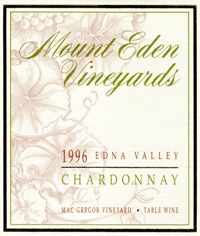 Tasting Notes
Release Date: Spring 1998
1996, our twelfth year from this vineyard, is a classic in the style of our Chardonnay. Mount Eden has always emphasized complexity over simple fruitiness. For this to succeed, however, we need a vintage that is high in fruit character to begin with. The 1996 vintage was such a year. Vineyard specific grapefruit, guava and mint flavors are enlivened by toast from barrel fermentation and roasted grains from "sur lies" aging in our mountain cave. Hands off wine making is evident in the long reflective finish.
Tech Notes
Sorry, technical notes not available for this vintage.
93 points Stephen Tanzer's International Wine Cellar - May/June 1998
 Lively aromas of lemon peel, fresh herbs, flowers and spicy oak. Big, rich, sweet and impeccably balanced, with crisp acidity framing and intensifying the fruit. Icy-clean, palate-freshening finish hints at wintermint. Seamless and very long. A terrific value.

91 points Wine Spectator - March 1998
#22 Top 100 Wines of 1998 – December 1998
Rich, elegant and complex for California's Edna Valley, this wine shows off well-defined Chardonnay flavors, with tones of ripe pear, spice, melon and fig, and the finish goes on and on, turning creamy and complex. Good price, too. Special Selection
88 points Robert Parker Jr's The Wine Advocate - August 1998
Issue # 118
This wine offers a smoky, hazelnut personality reminiscent of a top quality Meursault or Chassagne-Montrachet premier cru. The wine is rich, lusty, and obvious in its flavor profile, yet undeniable delicious and sumptuous in texture and personality. It should be drunk over the next 1-2 years.