Edna Valley Chardonnay, MacGregor Vineyard 1994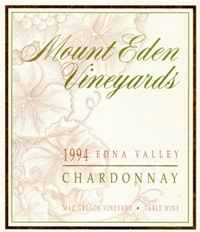 Tasting Notes
Release Date: Spring  1996
The variability of fine wine from one year to the next is one thing that makes winemaking fun and challenging. For example, this '94 is wholly different from all other nine previous wines from this vineyard.
The region's coolness is, in large part, responsible for this consistent variation from vintage to vintage. MacGregor's vineyard sits on the edge of viticultural feasibility and this, combined with mature vines, has again yielded uniqueness. Big body with big acid, two elements that are not typically simultaneous, are here in abundance. Telltale flavors of apple, pear, grapefruit and guava combine with toast from the barrel fermentation. Aged in the barrel nine months deep in our mountain cave, we feel this '94 is another in a long line of successes from this special site.
Tech Notes
Sorry, technical notes not available for this vintage.
89 points Robert Parker Jr's The Wine Advocate - February 1996
Issue # 103
The 1994 Chardonnay MacGregor Vineyard's tropical fruit-scented (mango, coconut, and pineapple) nose is followed by a dense, robustly fruity, fat wine that is bursting with fruit, glycerin, and extract. While it is not complicated or complex, its mouthfilling, savory personality delivers plenty of pleasure. Drink it over the next 6-9 months for its gushing levels of fruit.